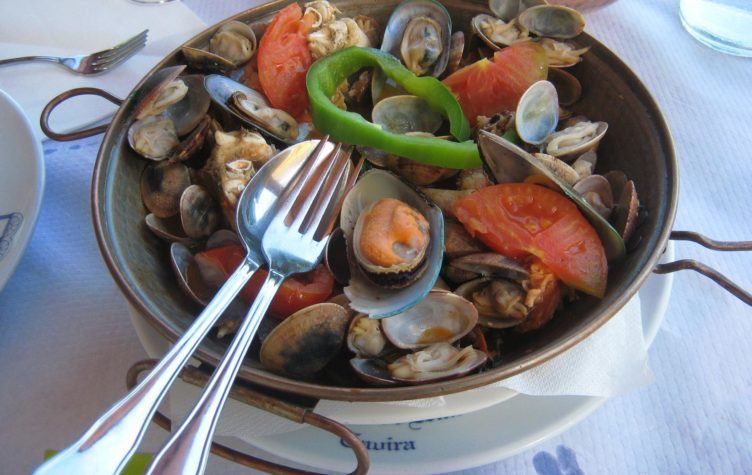 photo by cayetano
Cataplana of Clams Ingredients (6 servings):
1.5Kg fresh small clams in the shell, rinsed.
3 medium onions thinly sliced
3 cloves of crushed garlic
2 green bell peppers cut into small strips
Olive oil
1 bay leaf
500g tinned plum tomatoes
100g smoked ham, diced
50g dry-cured ham (prosciutto) diced
100g portuguese sausage (or any other chorizo style sausage)
Small glass dry white wine
Some fresh parsley, coarsely chopped
Paprika and/or ground chili pepper
The Sauce
Cook the onions with the garlic and the green peppers in olive oil in low heat until the onions are golden. Add the bay leaf and the tomatoes, keep a quarter of their juice. Bring to "simmering", then cover and reduce the heat to enable the sauce to cook slowly for 30 minutes. Then add the remaining tomato juice, the prosciutto, the smoked ham, and the chorizo. Cover and cook for another 30 minutes. Season with paprika or chili pepper.
The Cataplana dish
Spoon half the sauce into the bottom of the cataplana dish (or a similar style heavy pan with a lid), then lay the clams on top. Add the remaining sauce and the wine, cover tightly, cook for 15 minutes over a gentle heat, do not open.
Add parsley to decorate. Eat with fresh bread