Xarém is a traditional dish of the East Algarve, mainly Tavira which has innumerous ways of preparation. It basically consists of corn flour cooked with clams, with sardines, with grilled meat, you name it…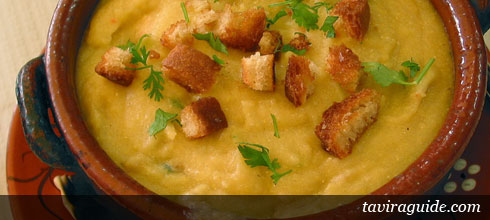 The original and most common way is with clams. So for this you will need:
1Kg of clams
100g of smoked bacon
100g of cured ham
1/2 Pork sausage
200g of corn flour
0.5dl of white wine
salt and pepper to taste
Preparation:
In a tin wash medium clams with cold water, so you clean them from any dirt they might have. After that cover them totally with sea water and leave them to rest for 4 to 5 hours, this will allow any sand and impurities to be expelled out.
Cut the bacon and the cured ham in small stripes and the sausage in thin slices. Fry them in a pan with low fire.
Remove the clams from the water and boil them in a pot covering them with water for about 10min. Save the water where you boiled them and take the mussels out of the shells. Put them in a pot, add the water where you boiled the clams and the wine; boil it for a while.
Add the flour taking the pot out of the fire and make sure it blends uniformly. Put it back to the fire and let it boil stirring once in a while, add the rest of the meat and serve hot.
Tip:
The meat used should be unsalted before cooking. Put the in cold water for about 3 to 4h… you get best results with home made products.