Depending on where you are coming from there are several ways of going to visit Tavira. If you come by airline flight you will have as your landing destination Faro International Airport (FAO). From Faro to Tavira, you'll have to travel around 38 kilometres.
Train from Faro to Tavira
At the moment, there is no connection between Faro airport and Faro train station. The nearest train station in Faro is located in the city centre, approximately 6 kilometres from the airport. If you want to use this option to get to Tavira, you'll need to take the bus ar the airport, pay a taxi or airport transfer service.
Taxi from Faro Airport to Faro Train station
This trip usually lasts around 10 minutes, under normal traffic conditions, and will cost you between 11 and 16 Euro, depending on the number of passengers and time of day.
Buses from Faro Airport to Faro Train station
You'll need to look for "Circuito 16" Bus at the airport. The trip lasts around 20 minutes and will stop twice, the first stop at the train station — you should get out here if you want to catch the train to Tavira — and the last stop at Faro Bus station. The ticket usually costs around 2,20 Euro per person.
Faro Airport Transfers
If you opt for an airport transfer service from Faro Airport, make sure you study your options beforehand. You can either opt to get a transfer to the train station, or go straight to Tavira. For details, check our page Faro Airport Transfers to Tavira.
Algarve Train Stations and Route
There are 6 train stations (stops) between Faro and Tavira and the trip usually lasts around 45 minutes and the ticket should be around 3 Euro.
Faro > Bom João > Olhão > Fuseta A > Fuseta > Livramento > Luz de Tavira > Tavira
At the time of boarding, make sure you're getting into the right train — towards Vila Real de Santo António. Many people miss this detail and end up going towards Lagos instead, or even Lisbon. You should get off at the first station in Tavira, where you'll be able to get a Taxi or easily walk down towards the city centre.
Although there are 3 types of trains that circulate in the Algarve railways, the Regional Train is the one you need to get to Tavira. This train covers all connections from East to West, connecting Lagos and Vila Real de Santo António.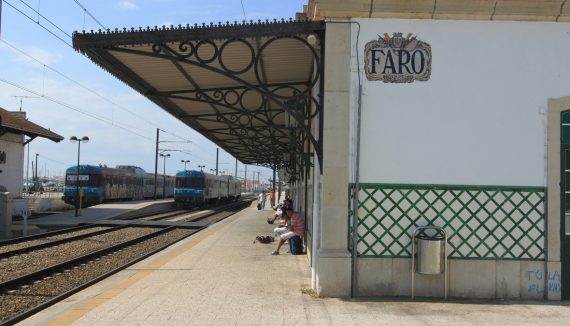 Faro Train Station › photo credits wikimedia
Driving from Faro to Tavira
From Faro to Tavira you have to travel around 35 kilometres to the East (~48 kilometres from Faro International Airport), usually, it's a quick trip using the A22 freeway (which by the way, it's not free anymore).
Driving from Spain to Tavira
Take the N431 from Huelva and follow towards Portugal and the A22 (Via do Infante). The distance is almost the same as from Faro (30 kilometres approximately).
Train from Lisbon to Tavira
If you're coming from Aeroporto de Lisboa (LIS), you have 2 train options: One departing from Gare do Oriente in Parque das Nações, and another from Barreiro. For this last one, you'll need to cross the Tagus river by boat at Cais do Sodré.
Driving from Lisbon to Tavira
The best and safest route to travel from Lisbon to Tavira is by taking the A2 Highway towards Faro — bear in mind there is 20 Euro highway toll to use this route —, and then entering the A22 towards Tavira. The distance between Lisbon and Tavira is around 302 kilometres, and you should approximately account for 2h and 45min travel time.